In February 2021, Rwanda Utilities Regulatory Authority (RURA) put on hold the regulation on e-commerce services providers, a sector which is yet to grow.
In its statement, it was announced that the regulation process was called off for more consultations after a general public shout.
As of today, E-commerce services providers in Rwanda claim it as a struggling sector in which getting customers is uneasy.
Majority of these business people say they had made huge profit merely amid national lockdown imposed on March 15, 2020-as a measure put in place to contain the spread of COVID-19.
By then, People were encouraged to stay home and avoid unnecessary movements or public gatherings in malls, super markets and public markets to reduce the increase in numbers of people testing positive for COVID-19.
By then, a lot of companies operating on internet made more profit than before COVID-19 was reported in Rwanda for food delivery, drinks and sanitary products mostly women's at people's homes.
Since COVID-19 preventive measures slowly eased, lot of customers just went down for "most people choose to go shopping for themselves rather than ordering online", a business person in Kigali City tells Kigali up
Seleman Nshizirungu, 30, learned that there was a gap for online business three years ago and it did not cost him too much investment to start his own business.
Today he owns a shop in Nyamirambo, the suburb of Kigali city. He says even if he is moving his physical shop online that there are still problems hindering the sector, pointing out "lack of government policy, rules and regulations so that people understand and trust the sector."
"Most customers coming in are people with education background, about 80 % who consume my products are educated, mostly foreigners who reside in Rwanda of between 30-45 ages." Nshizirungu notes in reference to his customers' trend since entered the sector
"I once received an order from Gicumbi district, the person who made the order failed to use MOMO pay while trying to get me money. He said i would rather go towards him promising me to pay all the ticket." He adds
Ever since Nshizirungu entered the sector, most of his customers are in Kigali with fewer from Rusizi, Rubavu, Musanze and Nyagatare "because most people in the countryside still believe in tradition trade", he narrates
It's a problem he shares with other online business firms whereby people do not understand and hardly trust this business model. Seleman's clients have decreased by 5% from 120% estimated while in lockdown.
Started in October 2020, Catchyz is also an online market place which links Rwandan buyers and sellers with no 'commission'-just free of charge. It helps business people to put goods, products and services on their website and Catchyz earns from google ads.
Catchyz was established as a Rwanda platform to just solve the issue of commission so as "to help Rwandans get an easy way to buy and sell things fee of charge." as officials say
According to its estimated statistics made during national lockdown, clients increased but slowly went down since it was lifted hence people choose shopping on their own.
In the course of lockdown, customers increased to an estimated trend of about 20-25%.
"We had a lot people coming in and our traffic increased somehow as people would be sitting home, we got a very big number of people who had never used our platform before. They later deceased at an estimation of 5% after lockdown, just the traffic went down." Agatako Happy Mignone in charge of communication at Catchyz Rwanda tells Kigali Up
Adding, "We have faced the challenge where people do not understand the way our platform works; they think [People] we sell products and services instead of directly talking to sellers. For now, people don't understand clearly that. Maybe it is because such concept [platform] is new here in Rwanda; it is new in their mind." She notes
It is the same situation happening to Iduka Online, facing the same major challenge with other companies where people do not trust, understand the sector.
"They are afraid of payment to the people they don't really know [want to see them face to face] live."
"I can't say that it's only our company that is facing this challenge, it's in all E-commerce here in Rwanda. People [Rwandans] like to buy products or services before checking by touching it, which is like going in manual shop [Physical shop or stores] to buy products but if we do that that's not e-commerce."  Said Mireile Uwase of customer support at Iduka
According to many online business operators' repeatedly ordeal, almost entire sector is challenged with limited knowledge leading to limited clients as Clemence Manirumva, Business Operations Manager at Kasha discloses.
"Other challenges facing the E-commerce sector is limited knowledge on how to use E-commerce platforms. So, most of the time we have first to support people through the ordering processes. Also it is still a challenge for customers to use a cashless economy, where customers still want to pay cash upon delivery due to the lack of trust."
Started in Rwanda by 2016 and later in 2018 expanded to Kenya, Kasha is an E-commerce established for Women's Health, Personal Care and Beauty in East Africa; built for urban and rural areas with or without internet access.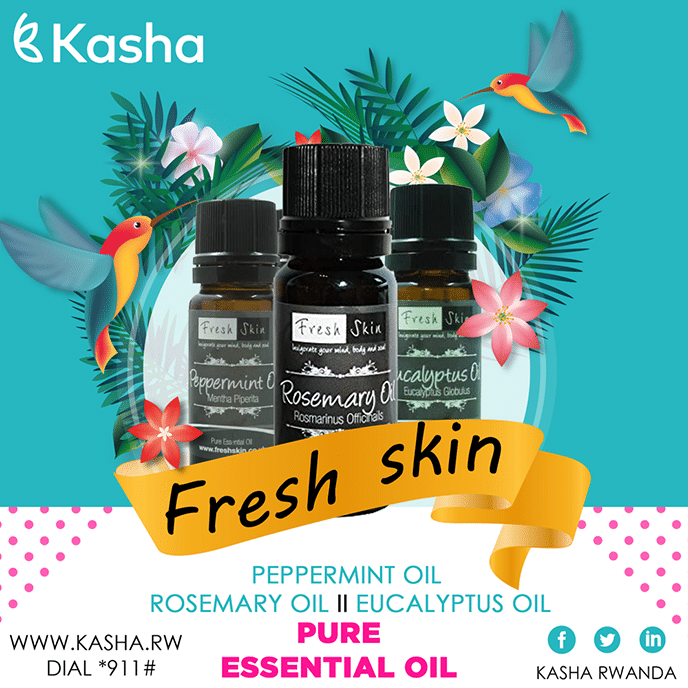 Like other company operating online, Kasha recommends the government for the encouragement for Rwandans to user online services with the recommendations where "Laws and policies being put in place should be promoting and encouraging small and new e-commerce businesses to easily operate and expand in the market."
On 16, January 2021, Ministry of Trade and industry (MINICOM) through its E-Commerce Project held a public private dialog highlighted also key challenges affecting the sector including lot of citizens' will of physical interactions and lot of transactions being made in cash.